WE'RE PETALUMA'S TOP SPOT FOR FUN!
Since 1992, Buffalo Billiards has been known for great fun and good food in Sonoma County.
More than just a pool hall in Petaluma, we also feature darts, shuffleboard, ping pong, pinball, and the area's most tasty foods and delicious craft beers and local wines available.
We're also the place that lists the top pool players in the world helping local players strive to be the best!
To become the best pool player you can be, consider reading our billiards FAQs.
– Lee & Harry Simons
The legacy of Buffalo Billiards began in 1953 In the the basement of the Pequop Casino in the tiny desert town of Wells, Nevada. Harry Simon opened his first of many pool halls. Later he bought Sequoia Billiards from Dorothy Wise, the greatest women's player of her day, and sold it a few years later to Sax Dal Porto, a top player of his time. There were several others along the way. Lee, the son and the unwitting provider of free labor, was playing and working in all these pool rooms. In 1973, fresh out of the army, jobless and clueless, he returned to Harry's Novato Family Billiards in a part time role and a full time San Francisco State student.
Harry got sick, Lee took over and has been at it ever since. There is no aspect of the billiard business that Lee hasn't experienced. Besides successful pool rooms, to selling 10,000 pool tables, god only knows how many pool cues, to his passion of antique pool table restoration. Buffalo Billiards has restored and sold many of the finest antique tables ever built. We also "build", plan and equip pool rooms of any size or style. 
Currently located in Old Petaluma in an 1860's brick building, featuring décor and atmosphere to match a bygone era. Both the pool room and the adjacent billiard supply store are at 246 Petaluma Blvd. North. Petaluma, CA 949592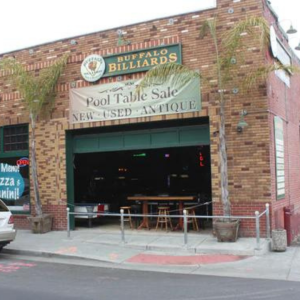 This is Buffalo Billiards. Set in a charming old brick building dating back to the 1860's; Buffalo Billiards may very well be one of the most interesting, eclectic pool halls you will ever see. Furnished with 100% custom benches, bar tops and tables constructed of recycled pool and shuffleboard tables- It's no wonder why our pool hall was featured in Billiards Digest as one of their "top 10" pool halls worldwide.
Today that same passion for billiards is stronger than ever. We believe everyone can benefit from playing more pool and make it our personal goal to improve our customers' game in any way possible.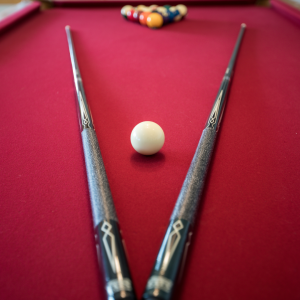 Buffalo Billiards has an absolutely massive inventory including thousands of cues, cases, cloth and, well…. everything billiards related adorning the shelves of our pro shop. We pride ourselves in our ability to adapt to an ever changing market. With online sales dating back to 1999- it's safe to say we have the knowledge, passion and unparalleled customer service needed to provide our shoppers with the world class buying experience they deserve.
FUN FOR EVERYONE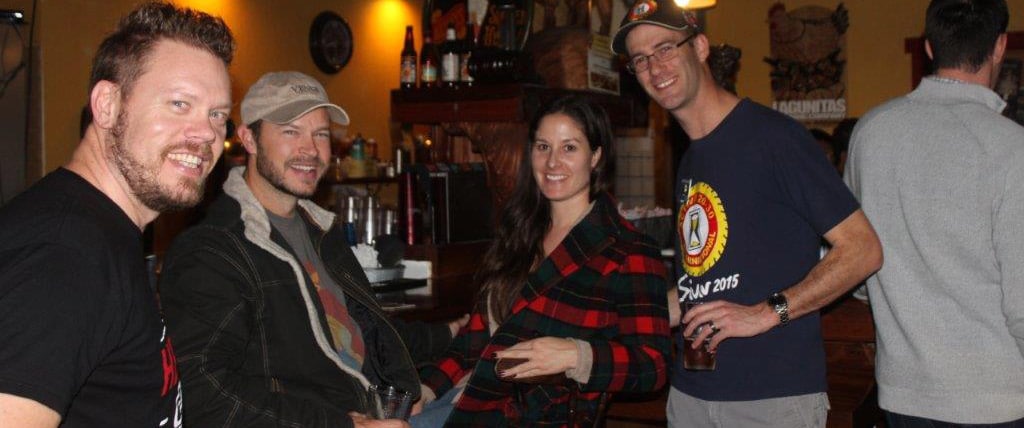 TOTAL FUN FOR ALL IN SONOMA COUNTY
We feature fun games like pool, darts, ping pong, shuffleboard, pinball, and state of the art games in a clean, spacious environment you're sure to love.
Our tasty menu items suit any appetite and our craft beers and local area wines are sure to satisfy!
At Buffalo Billiards, there's four things you can always count on:
We bring fun to everyone in a safe, clean environment.
We pride ourselves on tasty food and drinks that are sure to delight any appetite.
From special events to daily food and drink specials, we have fun for everyone in Petaluma.
We treat every guest with respect and courtesy and always provide top-level service.
Our purpose is to be your number one choice for fun in Sonoma County. That's why we bring you great games, great electronics, delicious food, craft beer, and local wines.
To Visit Buffalo Billiards' Supply Superstore!