See what others have to say about the best pool hall in Sonoma County
Last Sunday this place hosted about 25 people for a company event and it was great.
It was my first time putting an event together and the MGR Lee and another nice guy named Billy could not have made the process easier- or affordable! They reserved pool tables, ping pong tables, the shuffleboard and provided good food with great service. The atmosphere was laid back and welcoming… even the bathrooms were clean. My entire Team had a great time! It's been well over a year since I've even looked at YELP (sorry YELP) but the service at this place motivated me to let others know about Buffalo Billiards. Great place to have some fun & relax and have a drink- I'll be going back – with my company and without!
– Season L.
Great girls night option. Everyone was nice. The music was fun. They have darts, shuffleboard, foosball, and pool. Definitely going back.
– Solful P.
One of the best places to go with friends or date night in Sonoma County.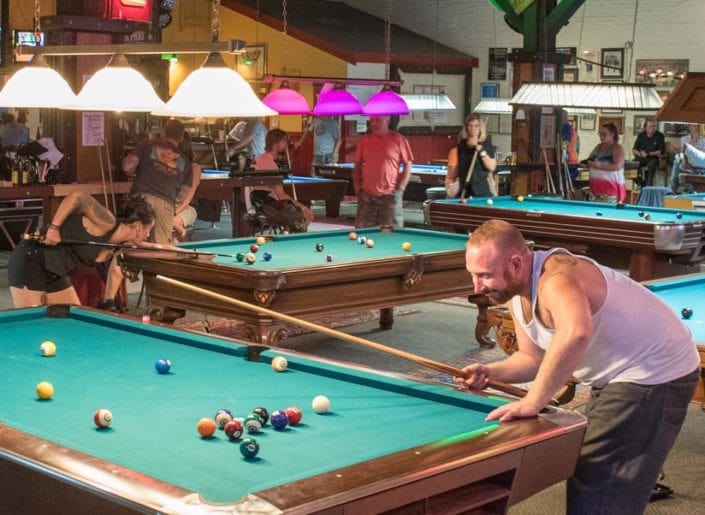 I have been going to Buffalo Billiards since March 2017, and after six months of visiting at least once per week, I am giving Buffalo Billiards five stars. It was my new years' resolution to learn how to play pool and at Buffalo Billiards and after a few times of coming to this pool hall, I've decided that it is my favorite place to play pool in Sonoma County. The owner, Lee, is very nice and he makes sure that all of his tables are kept in good condition, there are enough pool cues for everyone (which are replaced often when there are wear and tear), and I have a reliably good experience each week that I come. I tend to go on Sundays with my boyfriend since it is $1 per hour per person but I try to go on other days of the week too. I loved all of the staff when I first started coming, but since it is a bar/pool hall with a young staff, I understand that staff turnover is higher than other businesses. The new staff was a bit slow at first, but they've caught on well in the past few weeks and waiting an extra 60 seconds hasn't taken away from the excellent experience I have at this facility. My boyfriend recently purchased a pool cue from here and he LOVES it and the staff (not the bar staff, but the store staff that knows about pool/equipment) were very helpful and let him try out several cues over the course of the weekend until he found the one he wanted. Excellent service if you're looking to buy a cue!
If you happen to not be a serious pool player, this facility also has darts, shuffleboard, ping pong, etc. and lots of different beer and cider on tap. It's a fun place to bring your friends and I'm always introducing all of my friends to this place. Buffalo Billiards serves food such as individual pizzas (you create-your-own), sandwiches, hot dogs, mozzarella sticks, onion rings, etc. When I'm in the mood for a treat, I love to eat here.
– Remy F.
This place is a must see when in Petaluma! Buffalo Billiards is a great place to hang out, shoot some pool, and have a beer. They even have really good food! The French fries are delicious. This is the best pool hall in California!
– Brandon Y.
This place is a go to if you're looking for a genuinely good time. The atmosphere is amazing. It is a safe and friendly environment. The staff here is very welcoming and polite, and truly want you to have a great time. For the price you pay, you get a lot of fun here. I highly recommend stopping by for a game of pool!
– Branbob J.
I've been going to buffalo billiards for a while now and it's always been a great time. The beer is always cold and the food is always hot. Some of the nicest employees you'll meet and they always remember your name. I suggest you grab a friend and get yourself a pitcher and a table.
– Ron K.
This place got a lot better. They offer a much wider selection of food, beer, and wine than they used to, and they still have a ton of pool tables. They also have darts and ping-pong.
– Ryan Donahue
This was the first pool hall I've ever been to. They have like 25 pool tables, some small, some regular sized, some oversized, some just for trick shots. Extremely cool and at different times they have $2 beers!
– Keena Feola
Super spot for pool, darts and ping pong. Plenty of nice tables and equipment. They sponsor several team tournaments and special events. They have a friendly staff and plenty of great beers. They also have a limited wine list and food like pizza and french fries among others.
– Chet Wood
Great large spot with billiards and ping pong and great specials. I was here enjoying the bar with my parents and a friend and had a great time. Petaluma is a cool place to be overall. If you're looking for a lively but laid back spot on a Saturday night, I highly recommend Buffalo Billiards.
– Hannah C.
2nd time purchasing some pool cues here. Wish it was closer to my house so I could stop in and play pool more often. Great place to hang out and play a game of pool. They have shuffleboard as well as darts here too.
– Michael Schade
I have been going to this Billiard hall regularly, I have always had great fun with great service. I recently needed a pool table moved and they were my first choice. Their guys came out disassembled the pool table quickly! They were polite knowledgeable and more importantly very cautious of their surroundings while moving the table. They delivered it and set it up for me at a new location within hours! Great epoxy on the slate, a spot on job by Buffalo Billiards.
Thanks so much for the Great work!
– Ezra Pucci
This place is super chill. Even though there was a pool tournament, we were still able to get a table. I was really happy with the service and overall experience of local townspeople – pretty laid back.
– Rudy Ornelas
Really fun atmosphere, not crowded or expensive. I wish there were more bars like this one. I don't care if it's fancy I just need cheap drinks and something fun to do!
– Adam Fain
There is always good beer on tap or in a bottle at great prices, the food is pretty good for bar food, the bathroom is functional, the crowd isn't too rough and the girls behind the bar are really awesome (and attractive!).
– Brian P.
Nice prices, nice environment, excellent service!
– Fanny Salas
Sometimes all I need to escape my day is a night filled with my friends, drinks and the pool table! Today, was no exception. I'm happy when I'm here. 🙂
– Alexis C.
Cool pool hall. Tons of tables also a couple ping pong tables.
– Josh P.
Enjoy Tuesday Ladies Day! Recently had a fun party experience and am feeling warmly welcomed at this venue. Sales and service excellent; bought my first cue and out to pot the shot! 🎱
– Betty Verse
Nice spot for billiards, foosball and local tap beer
– Rich Lawler
Nice pool hall with full sized tables and a carom table. They have leagues and tournaments. Parking in back.
– Bob Jewett
This was the first pool hall I've ever been to. They have like 25 pool tables some small some regular sized some oversized some just for trick shots extremely cool and at different times they have $2 beers
– Keena Feola
Great place to play, variety of tables, some vintage, great service and jukebox!
– Gar J
They actually have one of the best Ruben sandwiches I've ever had.
– Noln Moore
I've been here before a few times its very laid back. Good atmosphere for a chill game of pool or a competitive game of ping pong and a good drink.
– Noa B.
Friendly environment and a perfect bar (kid friendly) if you're looking to play billiards (10+ tables), ping pong (2 tables), table shuffle board (1), and/or classic arcade games.
– Brian P.
Cool little place to hang out . Came here with some friends because they wanted to play pool. Very fun tons of tables that you can play in . Good music good bartenders . Had a lot fun , and the beer was great!
-Yaya O.
If you enjoy playing pool, delicious cold beer and friendly people… then this place checks off all of the above. The biggest secret to this place is definitely the food! Try the pizza(my personal fav)!! Its absolutely amazing. Made to order, its on point.
-Kory M.
They do also have a pay jukebox with a large selection of music, you just hope the person that plays the music has the same taste as you. For my first pool hall I was pleased and would recommend this place to others as well.
-William W.